​​​​​​​How to celebrate Valentine's Day with your significant other in one of Bethesda's best restaurants

Valentine's Day is right around the corner, and there's no better way to show love to your date — and the struggling restaurant industry — than by going out for a wonderful meal. Here's how to celebrate at local restaurants this year and seven of the best from which to choose.
Dine In or Carry Out
The pandemic has changed the way we dine and, as many restaurants have still not opened for in-house dining, you may be enjoying your Valentine's dinner in the comfort of your own home. This is no excuse not to make it special, though. Order from one of your favorite restaurants, light some candles, and pop the champagne to have a special evening with your love.

If you do want to get out of the house, some restaurants have begun opening their doors. Plan to make reservations early to ensure you can get a table, as all restaurants will have limited seating.

​​​​​​​Need some ideas for restaurants to try out? We suggest the following: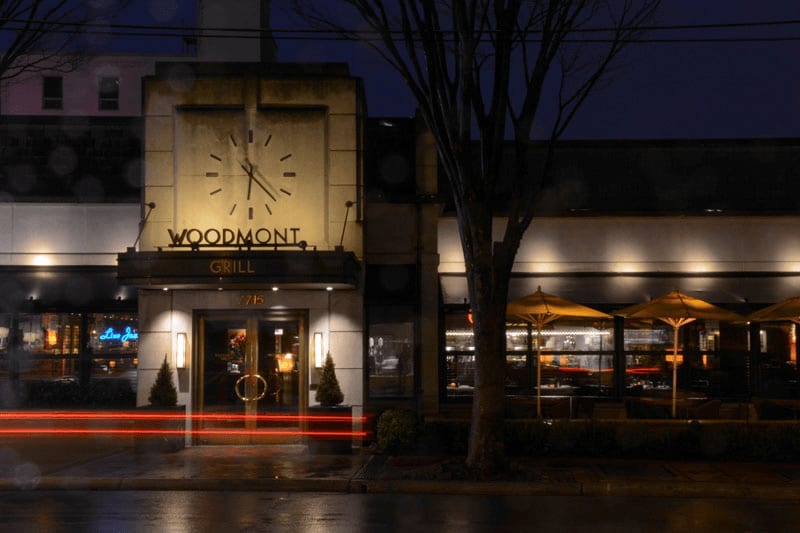 If you want to treat your date to more than just a delicious meal, consider booking a table at for February 14. Not only will you enjoy dishes like jumbo crab cakes and barbeque ribs, but you'll also listen to some live jazz while you dine. Complement your meal and entertainment by sipping on one of the restaurant's expertly prepared cocktails or a selection from their wine menu. The patio is currently open at Woodmont and is predicted to remain that way through Valentine's Day, so you can have a much-needed night out with your significant other.
Fresh, rustic Spanish and Italian food is the name of the game at in the heart of Bethesda. Using locally available ingredients, the chefs at this beloved restaurant prepare meals that are thoughtful, sustainable, and delicious. Unfortunately, Chef Tony's is currently closed for in-house dining. If that's still the case when February 14 rolls around, consider delivery or curbside pickup for an unforgettable meal at home. Try the crab mac & cheese, chicken scaloppini, or braised boneless beef short ribs and finish it off with a mouth-watering dessert created by Tony's wife, Sofia. The "Baltimore's Best" Italian cannoli or caramel croissant bread pudding are always good choices.

With its elegant indoor atrium and delectable northern and southern Italian cuisine, has been a Bethesda staple for more than 25 years. Connect with your valentine under the high ceilings decorated with hanging baskets and dine on lobster ravioli, penne alla vodka, or veal saltimbocca.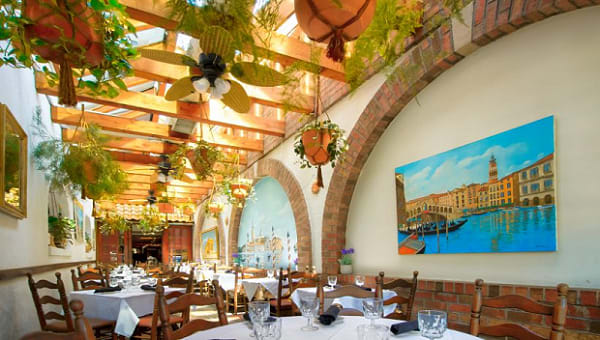 If you're a bit more adventurous, try something from the Argentinian selections, like the Milanesa de Carne or Noquis Pomodoro (homemade potato gnocchi sauteed with pomodoro sauce topped with dried ricotta.) Finish your special meal with an Argentinian favorite, a sweet and cheese plate, or the Italian classic tiramisu.
Described as a contemporary small plate brasserie with a focus on seasonal, local ingredients, is the perfect selection if your valentine is a true foodie. The atmosphere is elegant yet casual and will instantly transport you to Paris. Start the night off with a unique charcuterie board featuring duck sausage, duck prosciutto, and duck pate, then try out an entrée like the braised lamb shank or bouillabaisse. Don't forget the cocktails — Duck Duck Goose is known for having some of the best in the city. Celebrate the occasion with a Loosey Goosey, Duck L'Orange, or Banana Jameson.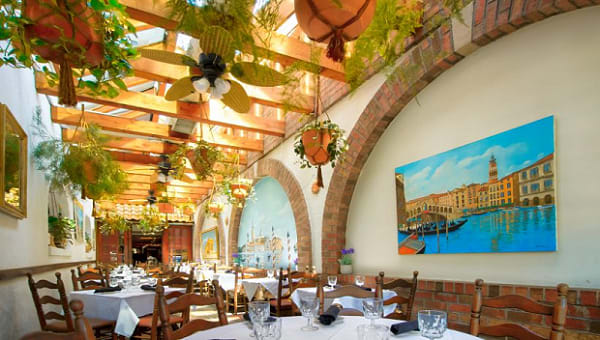 Would your date rather have a flight of craft beer than a fancy dinner? Then spend Valentine's evening at Owen's Ordinary, which features a state-of-the-art beer program and funky steampunk décor. There are 50 rotating taps at Owen's, and features include the Widowmaker Quarry Juice, Cushwa Marg Mix, and Diamondback Locust Point Lager.

There's plenty of food to go along with the beer and other drinks at Owen's, and it's all delicious. You and your significant other can dine on crispy Rhode Island-style calamari, roasted wild mushroom flatbread, or Maryland po'boys.
Located on Bethesda Row, is a quaint French bistro featuring live jazz on Tuesdays and Thursdays and plenty of special events like wine dinners and cooking classes. You and your valentine can celebrate a day early with their Sweetheart High Tea Package that you can pick up and enjoy at home. Or dine in on the 14th with trout almondine, Steak Roquefort, or a truffle and brie burger. Don't forget to add that special touch and choose a bottle from their extensive wine list and end the evening by sharing the crème brûlée or their warm flourless chocolate cake.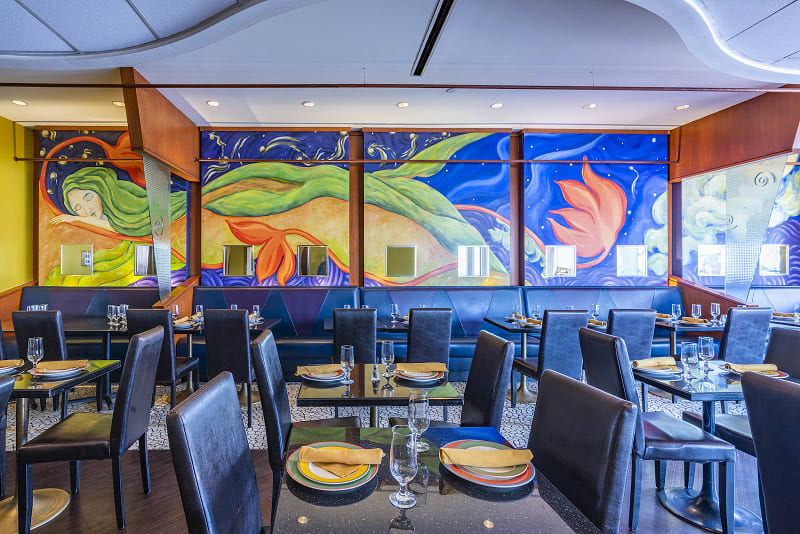 Want to treat your date to something a little spicier? Take them to , an upscale authentic Indian restaurant that uses all-natural ingredients to enhance the subtle taste of their dishes. Tandoori Nights is not currently open for in-house dining, but you can enjoy their food just as much at home. Start with an order of Pani Poori (puffed pooris filled with potatoes, chickpeas, and chutney), then choose from entrees like Chicken Saag, Bombay Fish Curry, or Prawn Angarey. To complete your at-home meal, pick up some Saison beer or Riesling wine, both of which pair well with the spices in Indian food.

Valentine's Day may look a little different this year, but you can still help out the struggling restaurant industry by dining in or carrying out at one of Bethesda's fantastic local eateries. Remember to make reservations early, tip the staff generously, and be patient if lines are long or if service is a tad slow this year.

Bethesda is one of the most upscale cities in the city of Maryland, and you'll always find a great restaurant right around the corner. If you don't yet live in this gem of a city and want to consider buying one of the homes for sale in Bethesda and relocating, contact an experienced Bethesda real estate agent like those at to find the home of your dreams.