Ever since the COVID-19 pandemic hit, homeowners have realized more than ever how important their kitchen is. When restaurants around the country closed and stay-at-home orders were issued, those who owned Bethesda homes had to turn to cooking, eating, and entertaining in their own houses. The kitchen truly became the heart of many of these family homes. Even though restaurants have opened back up for business and many in the Bethesda area are getting out and about again, the kitchen remains one of the most used rooms in the house. With all of the extra use of the room, many homeowners realized their kitchens were too small or weren't set up properly for their needs. If this sounds familiar, consider the following tips for making the most out of your kitchen space.
Repaint It
It may seem obvious, but many owners of Bethesda homes fail to realize that painting their kitchen in a dark color will make it look smaller. If your kitchen was already painted a dark color when you purchased it or you made the mistake of painting it this way somewhere along the line, you can instantly create the illusion of more space by giving it a fresh paint job. To create a feeling of openness, choose light yellow, pale grey, or off-white. Accent walls should also be avoided in the kitchen—especially if your kitchen is small—because they create feelings of restriction. You can instead add visual interest with colorful kitchen towels, window treatments, or decorative items.
Install Accent Lighting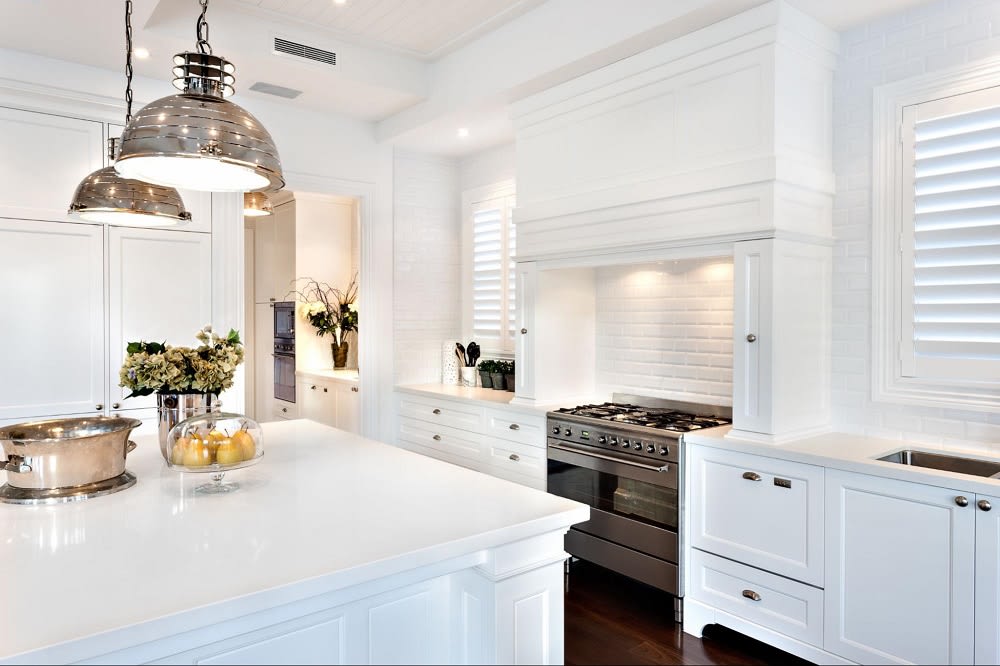 Light and bright are the two core requirements for kitchens in Bethesda homes that look and feel open. Make sure you have plenty of natural light coming in through windows by removing heavy draperies or blinds and replacing any outdated overhead fixtures. You can also add some accent lighting that draws the eye to the tops of the cabinets. This prevents the cramped feeling that can occur when there are shadows between the cabinets and ceiling and can make the entire room feel more open. Accent lighting under cabinets that is directed at the countertops can also give the impression of a larger space.
Declutter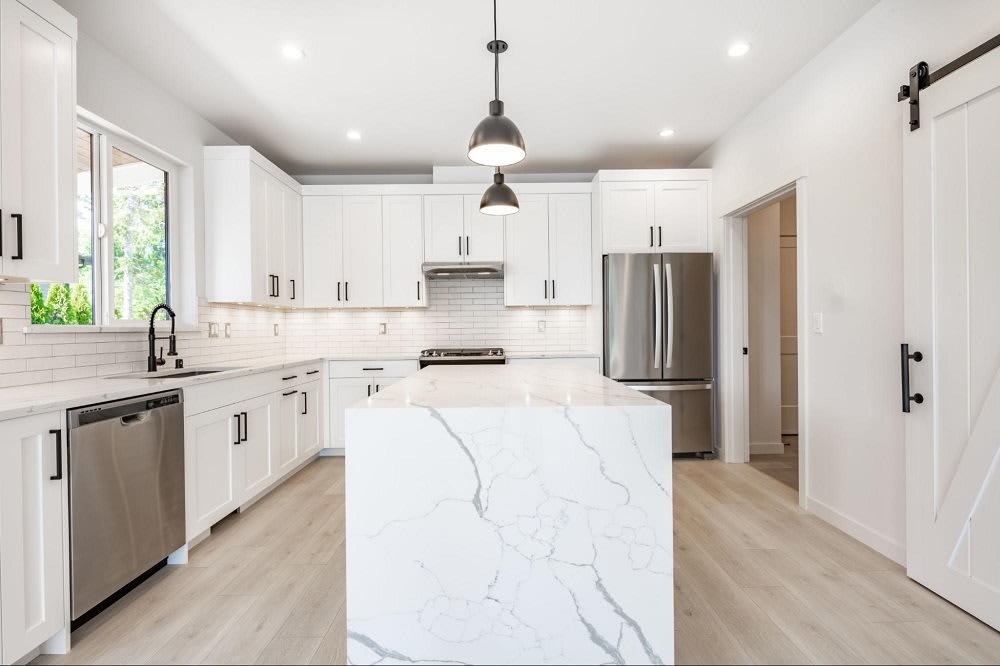 Many smaller Bethesda homes suffer from a lack of counter space in the kitchen. When these counters are cluttered with cookbooks, small appliances, spices, and other items, they look even smaller and limit the amount of workspace you have for cooking. If you don't have the luxury of a walk-in pantry, consider installing some customizable storage solutions, such as taller upper cabinets, pull-out shelves, or concealed storage racks. You can also add hooks, for getting pots and pans out of the way, get a fold-down table that can be stored when not in use, or install more wall shelves.
Replace Solid Cabinet Doors with Glass-Front Options
When you have solid cabinet doors, your gaze stops at the door. With glass options, your gaze will naturally go into the cabinet, creating the illusion of more depth and space. Bethesda real estate experts suggest using this tip on lighter-colored cabinets rather than dark ones as the illusion does not work as well with darker woods. If you're worried about everyone seeing the jumbled mess in your cabinets, you can achieve the same result with opaque glass fronts that still reflect light but hide what's inside.
Choose Reflective Materials Wherever Possible
Anything shiny in the kitchen will naturally reflect light and make the space appear larger. If you plan to upgrade appliances, consider stainless steel varieties. You can also consider adding glass tile backsplashes or replacing countertops with reflective materials, like polished quartz. Reflective materials paired with light-colored cabinets and under-cabinet lighting is the perfect recipe for a lighter, brighter, and more spacious kitchen.
Open Up as Much Floor Space as Possible
Large kitchen tables, china cabinets, and islands can eat up a lot of space in small kitchens. Bethesda homes that have downsized items in the kitchens or have items that can be folded away when not in use or that can be wheeled into other parts of the house will have more usable space.
Create a Pass-Through
One of the best ways to open up small kitchens in Bethesda homes is to create a pass-through by opening up a partition wall. Maximize your pass-through by building a counter that extends to the other side of the opening. This lets you borrow a bit of space from an adjoining room as well as creating more of a feeling of openness in a cramped kitchen. If you do decide to create a pass-through, it's usually a good idea to let a reputable contractor handle the project.
Add a Pull-Out Chopping Station
You don't need 24/7 access to a chopping station in your kitchen. In fact, many of those who own Bethesda homes rarely prepare a meal that involves heavy prep, so a dedicated chopping station equals wasted space. To save some room, consider a pullout chopping station that can be easily stored away when not in use.
Connect it to the outdoors
For Bethesda homes with the right layout, connecting the kitchen to the back porch with a set of double French doors can be the ideal way to open up space when guests come over or when the weather is especially nice. You can add some extra prep, serving, or gathering space with outdoor furniture and benefit from the natural light this project brings in.

Does your home suffer from a lack of space? Some of these tips just might do the trick. If you find your kitchen is just not large enough to serve your current needs, consider listing it and buying one of the Bethesda homes on the market that better fits your lifestyle. Ready to get started? Reach out to a trusted Bethesda real estate agent like those at Smart Living Experts for advice and guidance.